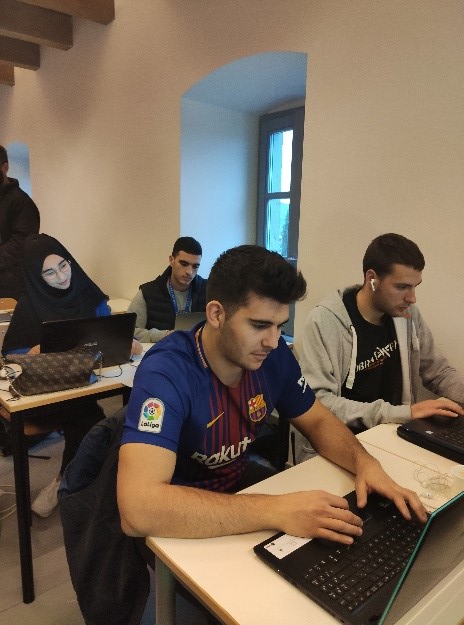 International Marketing Management IMM experience
Hello my name is Roger Godia and I am 21 years old. I am from Alcarràs, a little village in Lleida. I have been studying International Marketing Management at the JACS academy of Bergamo for the last 4 months. I am thankful to the Erasmus project at the Escola del Treball vocational school for giving me the opportunity to have this incredible experience.
At the beginning I wasn't sure if I wanted to get involved in this project but now, I am sure that I chose the best option out of the ones I had. Doing an Erasmus course abroad is something that everybody should experience.
I have learnt a lot of things during this time; I have improved my English level and also, I have learnt new skills and I have got a good knowledge about marketing. The classes in Italy were very interesting, dynamic and practical. we worked on a lot of projects, presentations and also some exams. Moreover, we didn't just learn new things at school, we also learnt a lot of things outside school like living with ten people in one house sharing a bathroom and a little kitchen, we had to adapt ourselves to living together, respecting the others, trying to keep the house clean, respecting the timetable of housework that we had to do etc. Furthermore, Italy is a good place to visit, no matter if your car driving license is real or fake because they are a little mad when driving.
On one hand, I would like to say that it is a great experience to meet a lot of people from other countries with other cultures, traditions, life styles, languages… We have created a big family in Italy with the Italian guys and also with the Catalan mates from Vic. I really value it because we have never been angry with each other at any time. For sure this group of great people will be in our minds for our whole life.
On the other hand, about the school JACS Academy, it is a big beautiful building located in a very quiet area of San Paolo d'Argon, in the past it was a monastery and nowadays it is a restored monastery turned into an educational center. And also, the city of Bergamo is a very quiet city with amazing things to discover, like the streets and the neighborhood of "Città Alta".
I am pleased to be part of this amazing project called International Marketing Management and I encourage anyone to join and enjoy this wonderful experience. And I am really looking forward to doing the next part of my Erasmus course in the Netherlands.