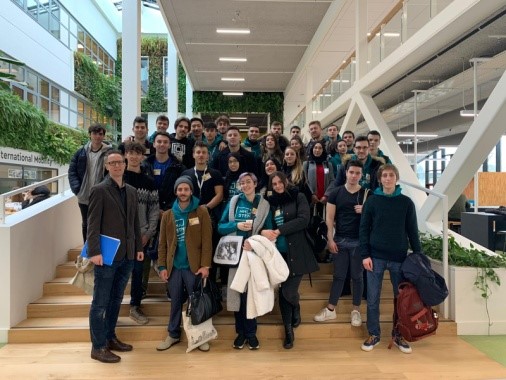 On January 31, 2020, the second part of our study abroad experience began.
At 3 pm at the same day, we were in Bergamo Orio al Serio Airport (Italy) waiting to take a fly in direction to Amsterdam, the Netherlands.
Once we arrived to our destination we took a train to the train station of Leeuwarden, a city and municipality in Friesland in the Netherlands. In few minutes after arriving there the whole group dispersed since we lived in different houses. Each with their luggage and the GPS in hand we went to the rooms we had rented.
I rented a room near the university. I was sharing a house with another girl Anita, who was also studying at the same university as me, she was very friendly, funny and nice person.
Three days after our arrival, we started the classes at the university. The university was looking really nice building, it's design from outside and inside was amazing and colorful.
During the first class, we basically met our classmates, our coaches, and we had a presentation on what we would study during our stay there. At first I liked it, I was feeling really fine and I was thinking that studying there would be enjoyable.
But as well as ever there were some things which were not entirely well. They were because I had some problems for being able to study there, since I do not have European nationality. It was difficult to get all the documents that I was asked to obtain a foreign visa that permits me continue studying there. Fortunately, in one week I got the visa and I was able to keep enjoying and learning there.
I spent in Leeuwarden 2 months, but due to COVID-19 I had to return to my home country. I really enjoyed the stay while it lasted, but there was one thing I didn't like. It was the weather, most days it was cold, some days it rained, and sometimes there were only a few minutes of the sunshine.
I hope that one day in the future I'll can go back there, either on vacation or to doing the internship there.
Bouchra Trioui