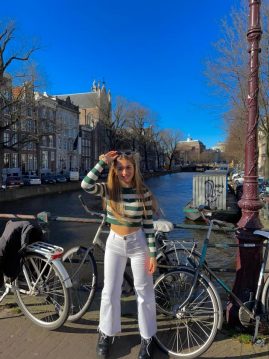 ERASMUS IN THE NETHERLANDS
LEEUWARDEN
Hello everyone, My name is Denisia. We are already at the second stage, The Netherlands. Actually, we have already finished our stay in Leeuwarden, a city in the province of Friesland with a population of 107,691 habitants.
We arrived in this beautiful city on January 26, 2022 and we were really amazed with the amount of things different from our culture. Once we arrived at the train station where we had to take a cab to get to the Student Stay (the university residence), we were welcomed by a kind man who introduced us a little bit to the country explaining how things worked there and how open they were in many aspects and in many taboo subjects. The truth is that we were totally surprised with the amount of information that we had obtained as soon as we arrived.
I remember arriving without having a secure accommodation, the truth is that it was much more difficult for us to settle in, unlike in Italy, although many people had the opportunity to stay in the university residence. That said, I spent a couple of weeks with my suitcase unpacked looking for options because once there it is much easier to move around either by meeting people who recommend accommodation or offers, than online. I even spent a few days living with some Italian friends in a houseboat and that was really amazing!!
The people are very, very nice. We have met people of all nationalities and that fact has helped us to work a lot on our way of expressing ourselves in English. All the students have been very friendly and have always helped each other no matter what you need.
I must also say that they are very festive and as you can imagine they organize many parties in the rooms of the university and also many fun events to meet people and create friendships.
All this aside, we have also had to apply ourselves to our studies much more. NHL Stenden University is incredible. It is huge and has a multitude of areas for students, both quiet and peaceful areas that offer materials such as Apple computers and music and art studios for studying as well as recreational areas such as the cafeteria for eating and resting.
It has all the amenities possible for students to do their homework more easily. It is so incredible that you could spend hours and hours in there studying!
Walking through the streets you can't avoid seeing many bicycles, because it is the most used vehicle there. So much so that we were finally forced to buy/rent a bike, and it's been great! We have also had the tremendous opportunity to work. We have worked with an agency called 'Recruit a student' and the truth is that we have gained a lot of work experience. I have worked in many different sectors; whether it be cleaning camping's, store inventory, working at techno festivals in Amsterdam preparing drinks, doing traffic guidance and even in a bakery factory.
The company itself gave us the instructions of the schedule and clothing and even left us a car to travel to the indicated place.
Apart from this agency, I have also worked in the most frequented bar of the city called 'Bascule',and it has been a very cool experience because the workers, the managers and the boss have been very kind and understanding at all times.
As I mentioned before, we have been able to study and work with ease, and after some time looking for accommodation I managed to find an apartment near both the university and the city center in which I have lived with some of my classmates from Vic. Although most of the time we have been working and/or studying, we have taken advantage of some of our free time to do activities and sightseeing in the Netherlands. After a long time living there some of us already started to miss going back home as well as the climate and culture of our country. So, at the slightest ray of sunshine we would get ready to go to the swimming pool or take the opportunity to have picnics in the open air.
To conclude, I leave this first course very satisfied with all the things I have learned and with all the good people I have met. I notice a great change in myself and I like it because my knowledge has increased and I hope it will continue to be like this in the next course that awaits me.
I am looking forward to continue getting to know the world and above all to get to know myself. I wish you all a good summer and I will keep you informed on the next level, it will continue…