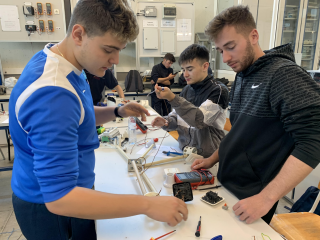 MY ERASMUS EXPERIENCE IN PORTUGAL
My name is Josep Tomàs. My Erasmus has been short but very interesting. We were staying in Braga, a small city in the north of Portugal, near Porto.
The vocational school we went to was in Vila Verde, so every day we took a bus to get to the Escola Profissional Amar Terra Verde. The school was much larger than ours, the first few days we were a bit lost, but we quickly settled in thanks to the fact that we were welcomed very kindly. The school had very good facilities to develop our studies and projects related to our field, electricity. They had several workshops with a lot of material and very interesting projects, such as electric vehicles, almost full-scale models of distribution networks, electrical and telecommunications installations of buildings. Some of the projects we worked on were: joining and sectioning optical fiber, assembly of an electric scooter prototype, various practices in electronics and many other activities, perhaps not so interesting but just as fun.
This experience has provided me with great academic, personal and professional growth as well as a considerable improvement in my target language skills. .