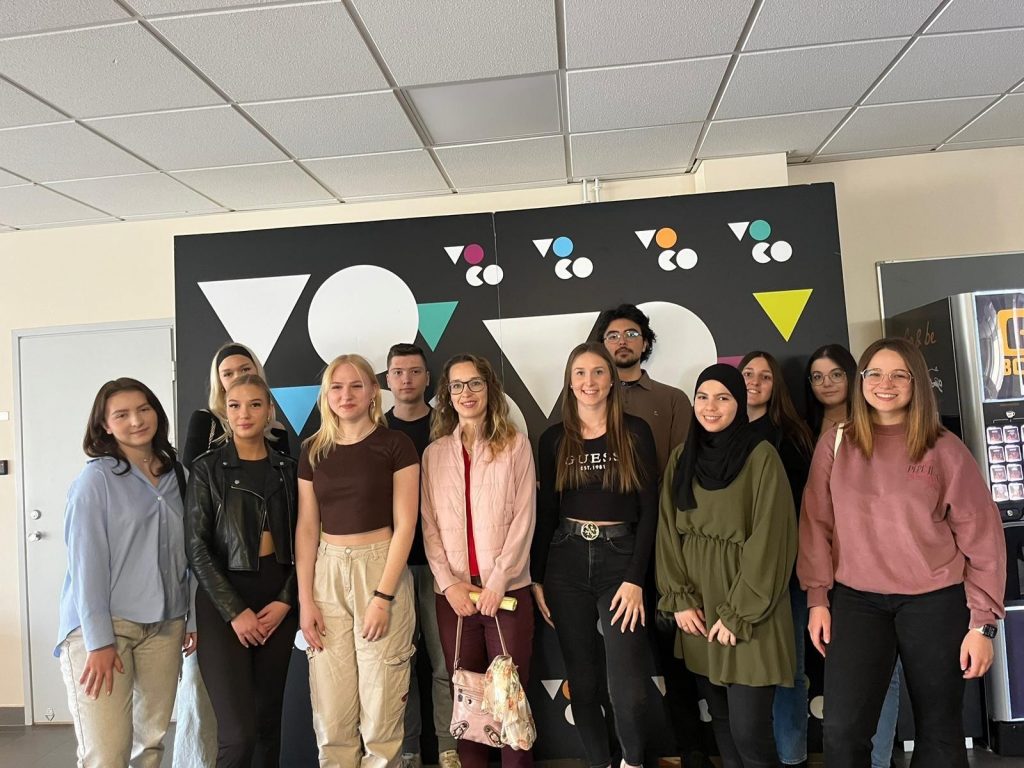 From Nordic Happiness to Academic Adventure;
Our experience Erasmus in Estonia
The Erasmus courses are very positive because students who can't afford it can go to other places and do an Erasmus courses because they are financed by the European Union so we lacked nothing, we were able to cover the different expenses such as food, and we were able to do a lot of activities. Here is our Erasmus experience:
We are Lavinia, Ahlame, Julia, Nerea and Noemí, five students who are studying at Escola del Treball school in Lleida and are taking part in an Erasmus course in the beautiful town of Tartu, Estonia. Our school organised an Erasmus trip to Estonia in May 2023 for two weeks, to do a course in "International Customers Services" at VOCO vocational school, located in Tartu.
At first, as everything was unknown to us, we were excited as well as scared by what we would find when we arrived there. It is a country with a culture very different from ours and a totally different way of doing things. But believe us, a large part of our worries were gone within two days of arriving there; but yes, the baked potatoes accompanied us all our stay there.
In that course we learned how to understand the main principles of customer service and its implementation, how to serve customers from different countries, how customer service works in different countries of the world. how to establish business relations with business partners abroad, the stages of sales process and how to apply them, learn the relevant vocabulary and be able to communicate with customers in English language.
We had the possibility of taking interesting subjects in English to be able to improve it and learn from qualified teachers, Kayre and Trini. In addition, the education system offered us a different perspective and a more practical approach to the topics.
Exploring the country was one of the most fascinating experiences. We visited different companies located around our school, like AHHAA, Henkel company and Pipedrive. Also we visited the capital called Tallinn, different areas of the capital, one of which would be the old part of the town, where we could see its combination of medieval beauty and modernity.
Apart from the academic and tourism aspect, Erasmus in Estonia allowed us to grow personally. We faced new and unknown challenges, such as adapting to a new culture and a new language. This experience helped us to be more open-minded, more independent and we gained self-confidence.
During our Erasmus experience in Estonia, we had an exciting and enriching adventure. From the moment we arrived in this beautiful Nordic country, we were welcomed with warmth and kindness by locals and other international students. We had the opportunity to meet and make friends with people from different cultures, creating bonds that will last a lifetime.
In the class group, we were people from 3 different countries: Latvia, Finland and Spain. This helped us to get to know different cultures and their way of relating with each other. Apart from learning about customer service, we met people who will be with us forever, we still have contact with people from Finland almost a month later and we are already planning a trip to visit Finland and Spain!
In short, Erasmus in Estonia was a unique opportunity to explore a fascinating country, meet wonderful people, and grow both academically and personally. It was an experience that we will always remember with joy and gratitude.
From our point of view, if you are hesitating to participate in the Erasmus program, I would encourage you to do so. No matter which country you go to, enjoy the experience to the fullest and discover different places with great people!