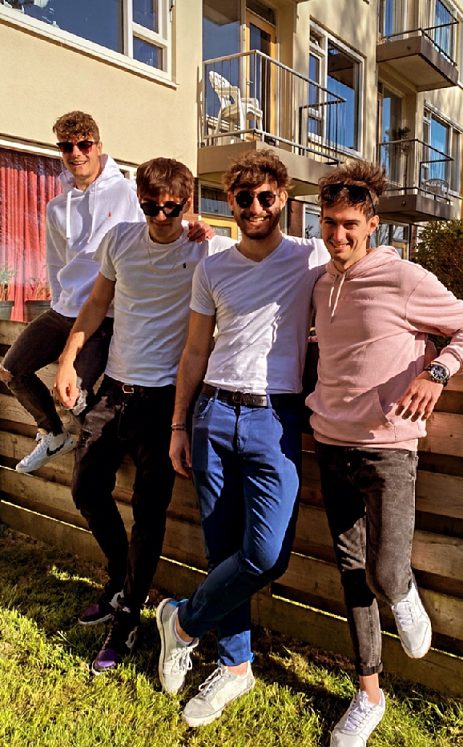 MY ERASMUS STAY IN THE NETHERLANDS
My name is Eric, I arrived in Holland directly from Milan, along with some Italian students and my schoolmate Alex, when we arrived in Leeuwarden I was surprised for the better as I expected it to be a small village and it was a small town with features of a city, also for the dry cold in the evening and night.
This time I chose to share the flat with an Italian student from Jac, whose lifestyle, I thought, could fit with mine and also I could improve my level of English (although in the end I learned more Italian and more about pasta dishes).
We rented a spacious flat equipped with everything we needed in the center of the town, we led a very healthy life in this period of time, we focused on doing a lot of sport (Tennis, Football, Gym…) and at the same time having good meals, as well as keeping reading habits, watching movies and always talking about the news of the day.
Regarding the university, unfortunately we couldn't go there until the last month and only half of the classes were face to face classes, because of Covid issues.
For an architecture and interior design lover like me, the buildings are really amazing, very modern, spacious streets, with places for everything, especially for study but also for leisure and food. I was really fascinated
As for the study methodology, as it is a University of applied science, from the very first moment, students are split into work groups, and you work with your group doing all the assignments and class after class, teachers give you specific guidelines to do a good final project.
To be honest, I didn't enjoy the first part which was about Creative Business because it was more focused on creative development in the film or journalistic industries, but the second part about Marketing was really interesting and I did my share part to improve my knowledge and do a good job.
Regarding leisure in Holland, we could only enjoy a little bit in the last two-three months, there were restrictions but we could see that people enjoyed a lot in the terraces of the bars and restaurants, obviously not at the same level as in our country, but much more than I had figured out, as for night pubs we could not go to any of them, and the food and drinks in bars and restaurants are quite expensive.
It is a beautiful town, for sports lovers, you have a wide choice, there are also different parks where everyone can go out for picnics as soon as they see the sun rise.
I think this Erasmus course has made me improve in all aspects as a person and I have really enjoyed my time here (even with the pandemic), I would definitely recommend to all students to take part in this Erasmus program because it is really enriching.